Contents
Voter Registration / Ballot Request – Online
Voter Registration / Ballot Request – Personal
Promotional material and publicity
Polls and Predictions
Post Election Rally
---
It's time to Get Out The Vote (GOTV) again! This time for the Federal Elections on November 3
th
.
Voter registration team members from American Voices Abroad (AVA) and Democrats Abroad - Berlin (DA) are gearing up to Get Out The Vote again and personally register American expats in Berlin for the federal midterm elections. As most Americans in Berlin tend to be registered already, the primary message now is ""
Voter Registration / Ballot Request - Online
Voters can fill out an online-assisted registration and application for an absentee ballot at one of these three websites:
In all cases, the application needs to be printed out, signed, and mailed to hometown election offices. The possibility to correspond by e-mail is becomming standard. That is, the registration/application can be scanned in once it's been signed and sent to the election office by e-mail as an attachment. The ballot itself can optionally be sent via e-mail to be printed out. This finally can be scanned in again, if the option is provided, and sent back along with a signed voter declaration.
Do make sure you know whether you can return your ballot via e-mail, fax, or by post if it is mandatory. If you must use regular postal mail, do not delay, as the U.S. postal system is currently under some duress, as you may have heard about in the news.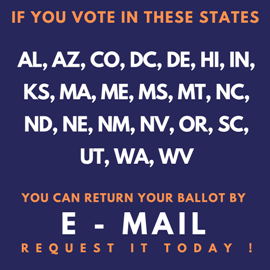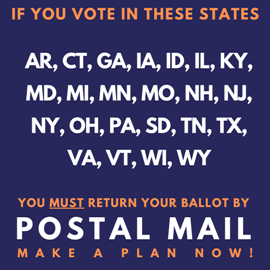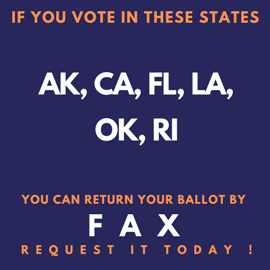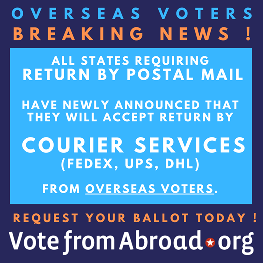 Voter Registration / Ballot Request - Personal
Due to the circumstances, the ususal summer events such as school festival have not taken place. Still, there may be the one or other event around Berlin where voter registration team members can personally help with registration or ballot requests at registration tables. I am organizing, participating in, or know about the following past and planned events:
Sunday, 30 August, at the American Church in Berlin with help by Democrats Abroad in Berlin.
For weeks to come, further registration opportunities before or after church service, which starts at 11.
Tuesday, Sept. 1 & Saturday Sept. 5, Democrats Abroad Germany - Berlin Chapter has 8 outdoor #registertogether locations around Berlin.
Saturday, Sept. 19, Democrats Abroad Germany - Berlin Chapter has tons of opportunities to get voting help and connect with other Americans in your neighborhood:
Prenzlauer Berg Kiez Voter Assistance – Democrats Abroad Berlin at Kollwitzmarkt, 10am - 3pm
Dems Playground Meetup: Weltspielplatz in Treptower Park, 10am - 12pm
Kreuzberg Kiez: Voter Assistance at Barcomi's, 12 - 2pm
Schöneberg: Voter Assistance at Maxway Coffee, 12 - 2pm
Charlottenburg Voter Assistance at Starbucks Ku'damm, 1 - 3pm
Wedding: Voter Assistance at Vagabund Kessehlaus, 4-6pm.
Canceled this year:
The usually very popular John F Kennedy School FunDay in September
Monday, Sept. 28, 8 PM, – One World Berlin Human Rights Film Festival. American Voices Abroad with voter registration sponsoring:
"Rigged: The Voter Suppression Playbook" in the Lichtblick Kino
Saturday, Oct. 3, 18:30, – Democrats Abroad Berlin is hosting a #NovemberisNow: Request & Vote Your Ballot party at BRLO Brwhouse at Gleisdreieck.



Bottom photo courtesy of Benjamin Bathke from Deutsche Welle (see report below)
Tuesday, Oct. 13, 8 PM, – One World Berlin Human Rights Film Festival. American Voices Abroad with voter registration sponsoring:
"Meet the Donors: Does Money Talk?" in the Lichtblick Kino
Voter registration and consultation is also possible occasionally at the monthly meetings of
American Voices Abroad (AVA)
and
Democrats Abroad - Berlin (DA)
.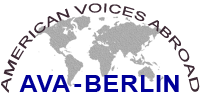 More locations planned and suggestions are always welcome!
Promotional material and publicity
We try to get Americans interested in voting abroad by distributing flyers in American restaurants, stores, and other institutions.

Downloadable flyers with some of the above information in various formats and promoting the different websites:

AVA paid for advertisement in the Sept. & Oct. (donated) issues of EXBERLINER: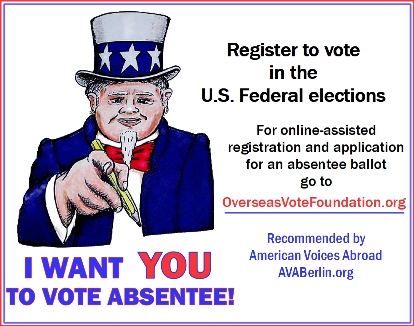 I was interviewed by Benjamin Bathke from Deutsche Welle for his radio report on voting from abroad. It was made at the Democrats Abroad's Request & Vote Your Ballot party at BRLO Brwhouse, see above. The interview starts at about 36:40 minutes into the Inside Europe broadcast aired October 23rd.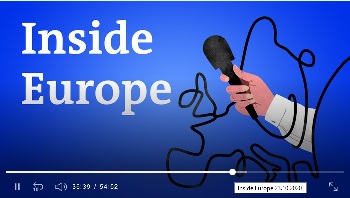 Polls and Predictions

Electoral-vote.com is always a pretty accurate source to follow the tendencies.
RealClearPolitics is pretty good too, but puts many more states into the toss-up category.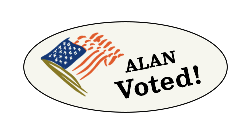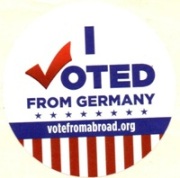 Post Election Rally
Democrats Abroad and American Voices Aboad called Americans in Berlin to come to the "Count the Votes Rally" at the Brandenburg Gate on the day after the election, November 4th at noon. We want all our absentee ballots to be counted!


Photos
This book title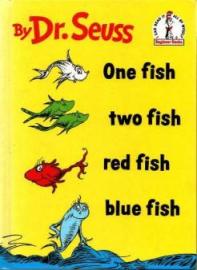 inspired this protest sign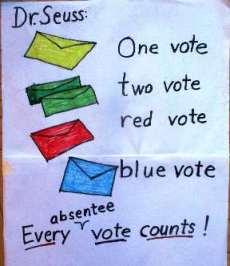 .
Click on a picture to get a larger image.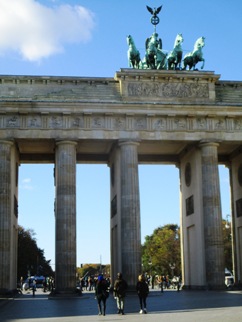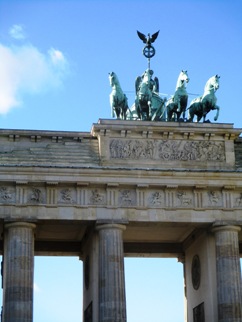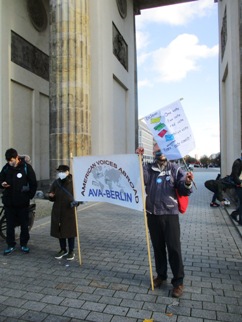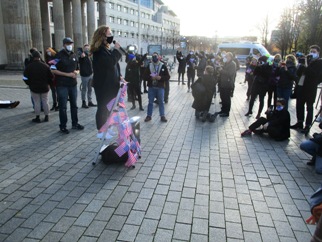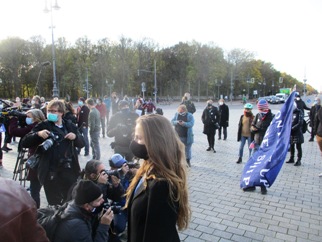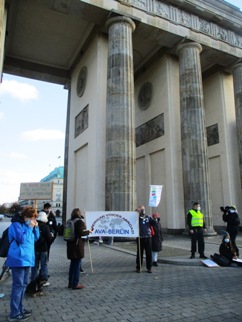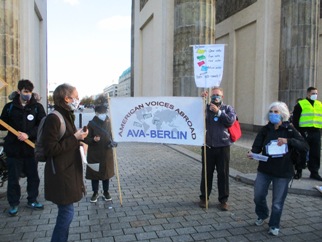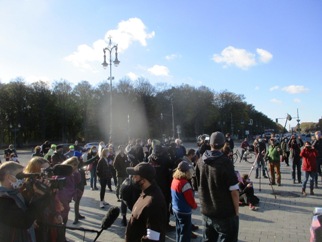 Videos
I am asked by rbb Abendschau on facebook for my prediction at 0:55. They didn't show much of my nice "One vote, two vote" sign, unfortunately.
From the Tagesschau at 16:00, Nov. 4th (captured via Zoom)


Screenshots and transcription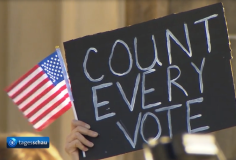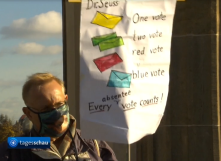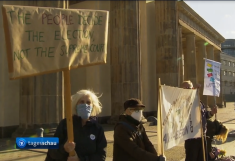 DE: "Hängepartie US-Wahlen – Vor dem Brandenburger Tor forderten Demonstranten jede abgegebene Stimme müsse zählen."
EN: "Cliff-hanger US elections – In front of the Brandenburg Gate, demonstrators are demanding that every vote must count."
Videos may not available after a number of days: rbb Abendschau, rbb24 Spät-Abendschau.
But this report from the rbb Abendschau broadcast at 19:30, I captured via Zoom:

Reuters made a video (with just the edge of my sign visible at 1:13), which was publishd by various German media, such as: Handelsblatt 1 or Handelsblatt 2 and Stern
Press
The rally and pictures were reported around the world. Unfortunately, none with me.
Berliner Zeitung
Neues Deutschland
I Heart Berlin
Tagesspiegel:




This article is available online, although slightly edited and without that picture of Diego Rivas of Democrats Abroad in Berlin. I did not like the caption for the picture. That was no "einsamer Demonstrant", i.e. lonely demonstrator. That was Diego addressing many other demonstrators around him. I pointed this "Fake News" out in a letter to the editors of the Tagesspiegel. Havn't heard back.
Getty images was the source for images in publications around the world, such as:
Newsweek
interaksyon
ARCHYDE
Washington Post
Wiadomosci
Financial Post
SCOOP
Süddeutsche
Press FROM
The Asian Age
Independent Espanol
Morung Express
The Globe and Mail
Rador
It was great to find out then that my vote was counted!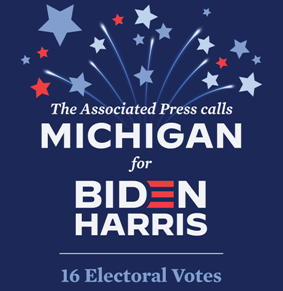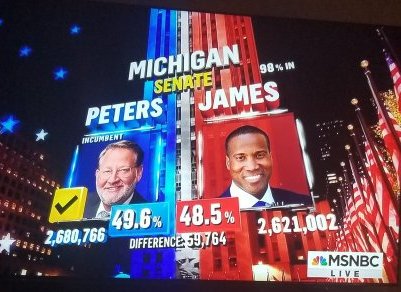 And finally, after a long wait, on the 7th of November,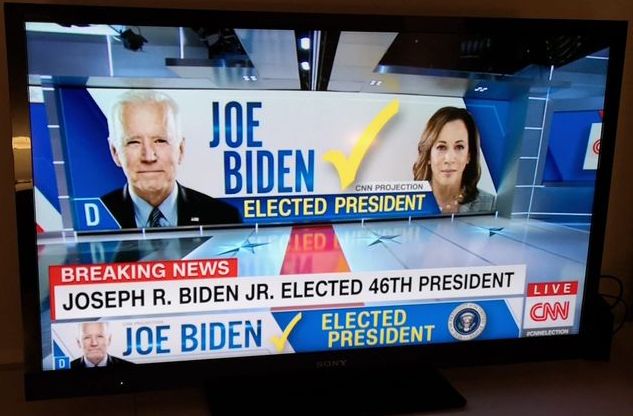 so we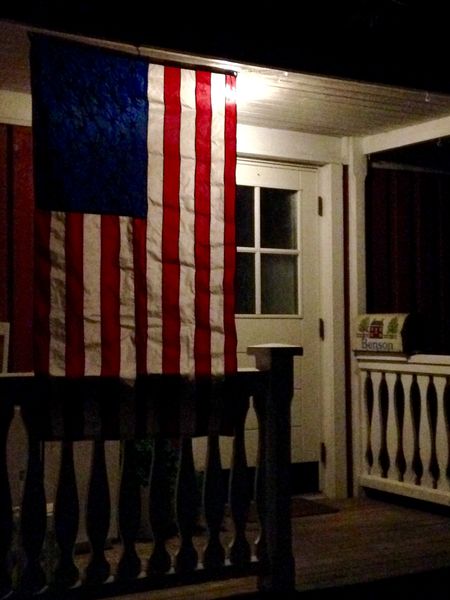 See the final count here from NPR: